Palm Jumeirah completion Severly Delayed
Sunday, July 17, 2005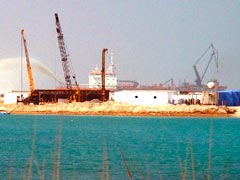 Bad news has surfaced for investors of Palm Jumeirah. Nakheel the company undertaking the project that had promised completion and handing over of properties by the end of this year has announced that work on the project will not be completed for another year.
Nakheel seems to be losing its reputation and scaring away investors with the completion of only one project to date on time, The Gardens (something that is of inferior quality as a personal opinion).
The delay has been announced only four months from the completion date and as per a statement released by Nakheel no compensation will be paid.
"
Property owners have been informed of a revised payment schedule, which has been restructured to the benefit of owners, with remaining payment spread out over the period up until completion,
" said Nakheel.
Along the same beach where the Palm Deira where work is being completed 50 million cubic metres of sand, equivalent to 50 per cent of that used on the Palm Jumeirah has been excavated thus far. The 14 kilometre long coastline being built is being billed by Nakheel as a new city within the emirate of Dubai, and will house upwards of 500,000 people when it is completed sometime during 2008, according to figures released by Nakheel. Will Nakheel be able to keep up to the estimate this time ? Only time can tell.
6:35 PM ::


::
0 Comments:
Vikram
::
permalink